Product Description


China Steel Flanges Manufacturer Exporter - RTJ Weld Neck Flange 600 900 1500 2500 - Jinan Hyupshin Flanges Co., Ltd
Hyupshin Flanges Co., Ltd supply steel flanges type RTJ weld neck (welding neck flange ring type joint).
Welding Neck flanges Ring type joint size NPS 1/2"-24" for ANSI B16.5 norm and flange size NPS 26"-60" for ANSI B16.47 (ASME B16.47) standard.
Weld Neck flanges ring type joint steel material carbon steel by forging for ASTM A105 A350LF for US ANSI B16.5 and B16.47 norms.
What is Ring Type Joint flange?
Ring Type Joint Flange is a type of flange that uses a metal ring that sits in a hexagonal groove as a gasket to seal the flange pair. The flanges seal when the bolts are tightened and the gasket is compressed into the groove making a metal to metal seal. An RTJ flange usually has a raised face with the groove machined into the face of the flange. The raised face doesn`t serve as a way to contain the pressure.
RTJ Flanges are used for high pressure applications up to pressures as high as 15,000 psi (103 MPa). It is only furnished only on steel or alloy valve bodies and usually need to specified when ordering. The flanges usually come in blind, slip-on, threaded and weld neck.
The benefits of using an RTJ flange and ring is that the gasket is confined to a groove and has two sealing surfaces. The groove assures that the ring centers itself when the bolts are tightened. It also is self actuating meaning that the sealing pressure increases when the process pressure increases.
The disadvantages of using RTJ Flanges is that ring type joint grooves can accumulate dirt or moisture when the flange is open. Since the seal is a metal on metal connection, a small amount of damage on the narrow sealing surface(s) may lead to a leak. Additionally, the grooves and gasket must align properly in order to assemble the flange and obtain a seal. They must stay aligned throughout the operating cycle. This is important if you are flanging up to dissimilar metals like stainless steel to carbon steel flanges.
Flanges Supply Capacity 1000 ton per month, delivery time 7 days per 20FT containers.
Flanges Packing: Plywood Pallets (legs over 10cm), Plywood Box.
ANSI B16.5 Flanges




hyupshin flanges

ANSI B16.47 Flanges

hyupshin flanges

Weld neck flange ring type joint

WNRTJ

ANSI B16.5 Flange

ASME B16.5 Flange

hyupshin flanges

Weld Neck flange ring type joint

WNRTJ

ANSI B16.47 Flange

ASME B16.47 Flange

hyupshin flanges







150lbs

300lbs

600lbs

900lbs

1500lbs

2500lbs







hyupshin flanges




150lbs

300lbs

600lbs

900lbs

1500lbs

2500lbs

hyupshin flanges

NPS 1/2"-24"

NPS 26"-60"




ASTM A105

ASTM A350LF

ASTM A181 GR60

A36

A234 WPB

hyupshin flanges




ASTM A105

ASTM A350LF

ASTM A181 GR60

A36

A234 WPB

hyupshin flanges

Forging

hyupshin flanges

Forging

hyupshin flanges

Certification: CE PED 2014/68/EU and AD2000 W0, ISO9001:2015 by TUV Rheinland, Korean KS B1503 KS Certificate by KTC, Test Certificate EN10204 3.1 Cert. hyupshin flanges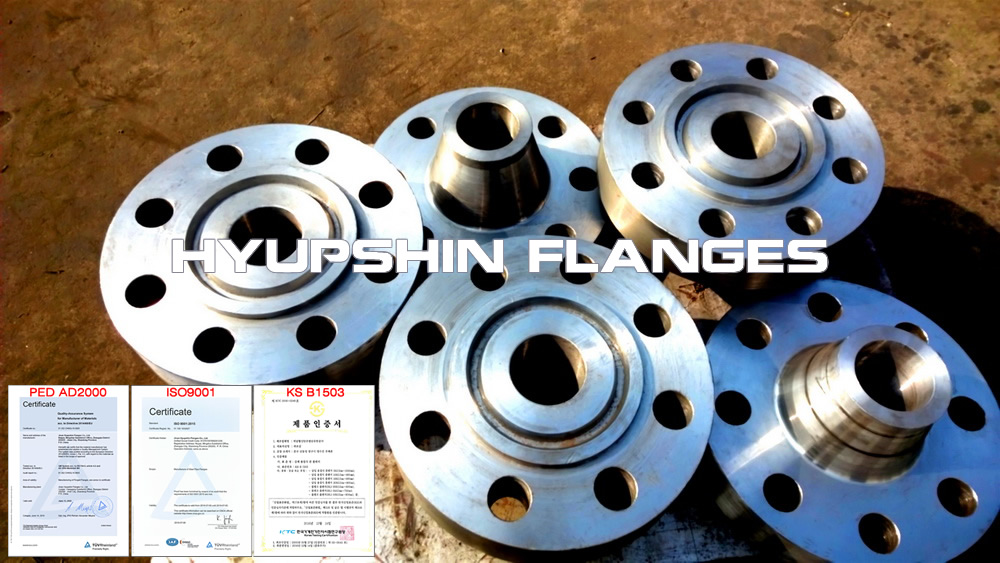 KEYWORDS: CHINA RTJ FLANGE MANUFACTURER, CHINA WELD NECK FLANGE RTJ MANUFACTURER, CHINA WN WTJ FLANGE MANUFACTURER, RING TYPE JOINT FLANGE MANUFACTURER, WNRF FLANGE, ANSI FLANGE, B16.5 FLANGE, ANSI B16.5 RTJ FLANGE MANUFACTURER, CARBON STEEL FLANGE, MILD STEEL FLANGE, STAINLESS STEEL FLANGE, ZHANGQIU FLANGES